Start Your New Patient Experience Off Right
When your new patient arrives, they will usually be the only patient scheduled at the time that your business assistant doesn't recognize. The savvy business assistant can be ready to make a great first impression. When she sees the new face, she's ready with a greeting such as "hi, you must be Jennifer. I'm Suzanne, we talked on the phone earlier. Please make yourself at home. May I get you a drink?"
After the patient has filled out any necessary forms, the appointment coordinator radios the dental assistant to verify they are ready. Since the business assistant already has a new relationship with the patient, she gives the patient a tour of the office, then escorts the patient to the dental treatment room and introduces the dental
assistant.
Here's an example of a script for an office tour that positions your practice in the best positive light.  (Please click on image to view the detailed script.)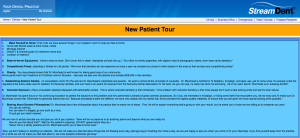 For information on StreamDent, contact us at 502‐509‐1570, or visit us at www.StreamDent.com.