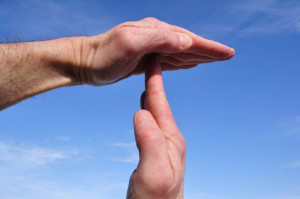 Time Out !!
When you hear the phrase "time out," the first thing you probably think about is a sports event, or if you're a parent, you might think of discipline for your child. Generally not something in your dental SOP manual.
Today, we're looking at a different kind of time out. Just like time-out periods in sports activities are used to pause and plan strategy, a time out in dentistry and medicine is a planned pause before the start of treatment to focus on safety and communication about the patient.
Time outs have been used in medicine for several years. They were first used in surgery, with the surgical team verifying such areas as:
the patient's name
their date of birth
the consent form had been signed
drug allergies
the kind of surgery being performed
Planned Time-Outs in Dentistry
In dentistry, we fortunately don't often have the life or death issues that are faced in a hospital, but mistakes end up costing us time, add to our stress, and can sometimes cause us to achieve less than desired results.
The most natural time for a time out for our procedures is anytime before someone picks up a needle for an injection, including local anesthesia or the start of an IV sedation.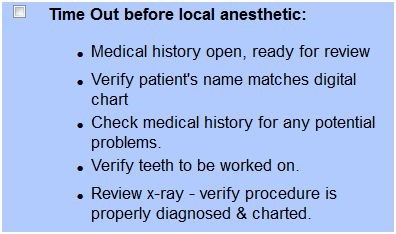 Here's an example of the time out we recommend in StreamDent before local anesthesia:
Talk over time-outs at your next team training session. And talk to your doctor about the ways your office could improve productivity and decrease stress by implementing systems and checklists throughout the office using StreamDent, the ultimate dental SOP manual. You can reach us at 502.509.1570.